E-commerce giant is promoting Buy With Prime, which offers merchants fast delivery of orders placed on other websites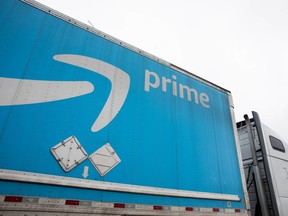 Article content
Amazon.com Inc. is targeting a logistics void left by Shopify Inc.'s abrupt retreat from shipping services earlier this year, which created an opportunity for the online retailer to make money delivering products ordered on sites other than Amazon.com.
The e-commerce giant is promoting Buy With Prime, which was introduced last year and offers online merchants fast delivery of customer orders placed on other websites. The company, at its Accelerate sellers conference Sept. 14, revealed metrics highlighting the sales boost merchants see when shoppers take advantage of their Amazon Prime membership to receive fast shipping and other benefits.
Article content
Three-of-four Buy With Prime purchases are from customers who are new to that particular online brand, Peter Larsen, an Amazon vice president, said. The service helps attract those shoppers because they are familiar with the Amazon experience and trust their orders will be delivered quickly, he said. In January, Amazon disclosed that merchants using Buy With Prime increased sales conversions by 25 per cent.
"Not only are you acquiring new customers, you're converting them at a higher rate," Larsen said.
Amazon dominates e-commerce in the United States, capturing almost 38 per cent of all online spending this year, according to Insider Intelligence. The company is increasingly making money by providing services, such as product packing and delivery, to online merchants rather than selling products directly itself. Amazon, which has seen its own online sales growth slow, expects more shoppers to buy products directly from brand websites rather than online marketplaces like Amazon.com and Walmart.com.
Direct-to-consumer sales, where shoppers buy items directly from a brand's website, will increase 17 per cent this year to hit US$182.6 billion, nearly double the 9.3 per cent growth rate of overall online spending, according to Insider Intelligence.
Article content
While Amazon didn't disclose how many merchants are using Buy With Prime, Larsen said the company "overall is going big on this." Still, Amazon has "got some work to do," he added.
Shopify's retreat from logistics appears to have ushered in a truce between the companies. Tensions between them escalated last year when Shopify purchased logistics startup Deliverr in a deal worth US$2.1 billion, signalling ambitions to compete more directly with Amazon. But Shopify abandoned those plans in May when it sold its logistics unit to San Francisco startup Flexport Inc., which just replaced its chief executive officer and is going through its own strategy shift.
I don't think we need to have this Amazon versus Shopify narrative anymore

Peter Larsen
The truce was cemented in August when Shopify and Amazon struck a deal to let merchants with Shopify's e-commerce tool also use Amazon's logistics network. Larsen said the integration went smoothly since both companies want what is best for merchants and shoppers.
"I don't think we need to have this Amazon versus Shopify narrative anymore," he said.
Some merchants have been impressed so far with Buy With Prime.
Article content
Aaron Cordovez, co-founder of Zulay Kitchen, which sells about 1,000 products on Amazon, said the service is helping him increase sales on his website because "customers trust the Amazon process. There's not many downsides, so I think more people will try it."
Amazon has struggled in the past to expand its e-commerce success beyond its online store. It relaunched Amazon Pay in 2013 to let customers shop on other sites using payment information stored with Amazon after killing earlier iterations. In 2015, it began closing is Amazon Web Store business, an earlier attempt to sell services that let online merchants create their own stores similar to Shopify.
The Buy With Prime push could have better success as online merchants recognize the need to sell through multiple channels such as marketplaces, their own websites and brick-and-mortar stores, said Ben Rey, chief revenue officer at Teikametrics, a Boston-based software firm that manages almost US$1 billion in annual advertising spending on Amazon, Walmart and other platforms.
Related Stories
Shopify shares surge after striking deal with Amazon

Shopify revenue grows amid loss from layoffs

Shopify to fight CRA request for 6 years of merchant tax records
"There's a lot of interest diversifying to other channels, and the challenge has always been fulfilment," he said. "Amazon is striking when the iron is hot."