Stock investors should focus on companies that would benefit from adopting artificial intelligence in the long term, instead of the near-term beneficiaries, which have already seen significant appreciation in their share prices, according to Goldman Sachs. 
Near-term AI beneficiaries, including NVIDIA
NVDA,
-1.01%,
Meta
META,
+0.83%,
Amazon
AMZN,
-1.68%,
Salesforce
CRM,
+0.33%,
Marvell Technology
MRVL,
-1.26%,
Adobe
ADBE,
+1.74%,
Alphabet
GOOGL,
-0.12%,
ServiceNow
NOW,
-1.07%,
Microsoft Corporation
MSFT,
-0.12%,
Intuit
INTU,
-1.09%
and Credo Technology
CRDO,
+0.67%,
on average recorded a return of 66% so far this year, while the S&P 500
SPX
saw a year-to-date return of 15%, noted David J. Kostin, chief U.S. equity strategist at Goldman Sachs.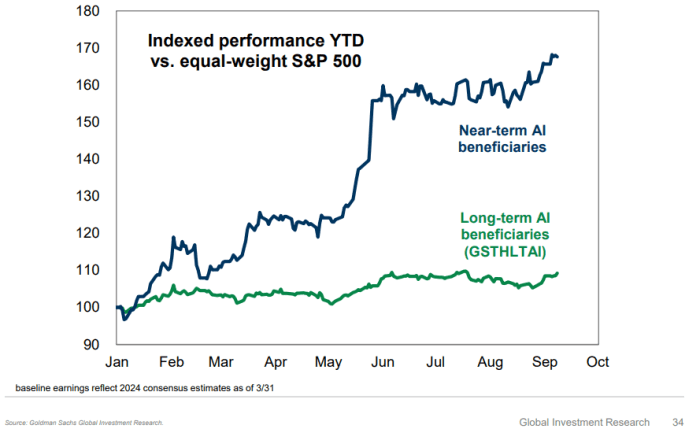 Some companies, which will benefit from AI in the long term, could get a boost in their earnings per share through higher sales and/or margins, Kostin wrote in a Sunday note.
Read this next: Here's an easy way to make a more concentrated play on the 'Magnificent Seven' stocks
The Russell 1000
RUI
companies, or the top 1000 companies by market capitalization in the U.S., could see a median 19% increase in their earnings per share boosted by AI, according to Kostin. 
Kostin also listed 50 companies that could become long-term beneficiaries of AI in sectors that range from communication services to consumer discretionary to energy to financials to information technology. They are expected to see an increase in baseline earnings of up to 388% with a boost from AI. (See below)
| | | |
| --- | --- | --- |
| Sector | Company name | Potential change to baseline earnings from AI (%) |
| Communication services | Pinterest, Inc. | 162 |
| | New York Times Company | 67 |
| | News Corp. | 63 |
| | ZoomInfo Technologies Inc | 58 |
| | Sector median | 18 |
| Consumer discretionary | H&R Block, Inc. | 57 |
| | Kohl's Corp. | 49 |
| | Coupang, Inc. | 49 |
| | CarMax, Inc. | 42 |
| | Amazon.com, Inc | 39 |
| | Lear Corp. | 30 |
| | Sector median | 19 |
| Consumer staples | Walmart Inc. | 44 |
| | Walgreens Boots Alliance, Inc. | 38 |
| | Costco Wholesale Corp. | 31 |
| | Sector median | 18 |
| Energy | Occidental Petroleum Corp. | 9 |
| | Williams Companies, Inc | 9 |
| | Sector median | 7 |
| Financials | Kemper Corp | 42 |
| | Brown & Brown, Inc | 40 |
| | First American Financial Corp | 38 |
| | Willis Towers Watson | 36 |
| | Marsh & McLennan Companies, Inc | 30 |
| | Fidelity National Financial, Inc. | 30 |
| | Voya Financial, Inc. | 30 |
| | Sector Median | 17 |
| Health Care | Tenet Healthcare Corp | 135 |
| | DaVita Inc. | 105 |
| | Universal Health Services, Inc. | 91 |
| | IQVIA Holdings Inc | 77 |
| | R1 RCM Inc | 77 |
| | Encompass Health Corp. | 68 |
| | Illumina, Inc. | 54 |
| | Sector Median | 20 |
| Industrials | Clarivate PLC | 232 |
| | Robert Half Inc. | 150 |
| | Ceridian HCM Holding, Inc | 125 |
| | Tetra Tech, Inc. | 122 |
| | Science Applications International Corp | 115 |
| | Sector Median | 25 |
| Information Technology | Guidewire Software, Inc. | 388 |
| | Alteryx, Inc. | 203 |
| | MongoDB, Inc. | 193 |
| | Nutanix, Inc | 177 |
| | Smartsheet, Inc. | 171 |
| | Snowflake, Inc. | 154 |
| | Twilio, Inc. | 138 |
| | DXC Technology Co | 95 |
| | BILL Holdings, Inc | 93 |
| | HubSpot, Inc. | 91 |
| | Accenture Plc | 80 |
| | Elastic NV | 76 |
| | Cognizant Technology Solutions Corp | 76 |
| | Sector median | 25 |
| Materials | International Paper Company | 41 |
| | Sector median | 17 |
| Real Estate | Jones Lang LaSalle Incorporated | 120 |
| | Sector median | 10 |
| Utilities | Hawaiian Electric Industries, Inc | 26 |
| | Sector median | 16 |
| | List median | 72 |
| | Russell 1000 median | 19 |
| | | Source: Goldman Sachs Global Investment Research |