13:07
Closing summary
Time to wrap up after quite a busy week.
Here's today's main stories:
Goodnight, and best wishes for the weekend. GW

12:47
FTSE 100 at pandemic high on Pfizer pill boost
Stocks in London have closed at a new pandemic high.
The blue-chip FTSE 100 ended the day 24 points higher at 7304, its highest close since the start of the market crash in February 2020.
Travel and hospitality stocks led the risers, on hopes that Pfizer's experimental antiviral pill, paxlovid, could help avoid future lockdowns and pandemic restrictions.
IAG, which owns British Airways, jumped 6% to 180p, followed by jet-engine maker Rolls-Royce which gained 5.8%.
Conference organiser Informa (+5.6%), engineering firm Melrose (+4.3%) and broadcaster ITV (+3.3%) also rallied.
On the FTSE 250 index, cruise operator Carnival jumped 9.5% and ticketing firm Trainline gained 7.3%, on optimism of a pick-up in travel bookings.
Danni Hewson, AJ Bell financial analyst, says:



"More records fell across the pond with those travel operators boosting the S&P 500, particularly the cruise sector which relies on trade from older travellers who might still have been a little wary despite the vaccination programme roll outs. Pfizer's antiviral is making headlines across the globe and it and a similar treatment from MSD could well be game changers for a world still a little wobbly and uncertain about what the future will hold as colder weather rushes in.

"The week has been tumultuous, it's delivered surprises, both to delight and dismay. Earnings have held up despite rising prices and supply chain log jams, plus in the US jobs and more jobs are back on the menu. Next week there's plenty more data to dig into from the latest US inflation numbers to a look at how the UK economy performed once the long summer holidays came to an end and normal service was just about resumed."

12:01
Back in the UK, more Bank of England policymakers have been explaining yesterday's decision to leave interest rates on hold at record lows.
The BoE's new chief economist Huw Pill told an online briefing that officials see "some need" to raise interest rates to fend off a jump in inflation.
Pill, one of seven officials to vote to leave Bank Rate at 0.1%, said:



"I think across the committee, there is a recognition that, at least on the basis of today's information, there is some need for action with the Bank Rate.
Deputy governor Sir Dave Ramsden, one of just two who did vote for a rate hike, said he was concerned about a recent rise in inflation expectations in Britain.
Ramsden explained:



"That move in the UK above, and materially above, what was a relatively stable historical average, has been something I've been concerned about.
[A survey last month showed a record proportion of the British public thinks inflation will accelerate over the next 12 months]
But a more dovish MPC member, Silvana Tenreyro, argued for a cautious approach to raising interest rates.
Tenreyro, who voted 'no change' yesterday, told a conference hosted by the International Monetary Fund that the Bank shouldn't move too quickly, while the economy is below its pre-crisis level and the health of the labour market is hard to read



"Central banks, not just the Bank of England, will need to balance their inflation and real-economy objectives. This balancing requires in my view a cautious approach,"
Tenreyro echoed governor Andrew Bailey's point this morning, that the Bank wants to see the impact of ending the UK's job protection scheme.
Policymakers should meanwhile be "very watchful" of wage pressures, she added.



"As soon as we see that picking up, that's where monetary policy has a bite. Monetary policy cannot really do anything about a spike in energy prices"
[Many thanks to Reuters for the quotes]

11:37
Biden welcomes jobs report
President Joe Biden has welcomed the jump in job creation last month.
Today is "another great day for our economic recovery." Biden declared, after seeing 531,000 jobs added in October, and more gains in September and August than previously thought.
Speaking from the White House, Biden says:



"America is getting back to work. Our economy is starting to work for more Americans,"
The president credits the economic plan introduced earlier this year, and the successful vaccine deployment, for the 'historically strong' jobs recovery. He also welcomes the substantial fall in unemployment among Hispanic Americans.
[as flagged earlier, the US has added 18m jobs since the record losses in April 2020, but is still over 4m shy of pre-pandemic level]
President Biden also said on Friday that the United States has secured millions of doses of Pfizer experimental antiviral pill for Covid-19, which the company says can cut hospitalisations and deaths by nearly 90%
"If authorized by the FDA we may soon have pills that treat the virus in those who become infected," Biden said.



"We've already secured millions of doses. The therapy would be another tool in our toolbox to protect people from the worst outcomes of Covid."
Our US Politics Liveblog has full coverage, with the US House of Representatives is expected to vote on the social policy and climate-change bill and a bipartisan infrastructure bill that form the centerpiece of Biden's legislative agenda.

10:19
Full story: US employers added 531,000 jobs in October as economy continues recovery

Lauren Aratani
US employers added a solid 531,000 jobs in October as the American economy appeared to withstand the impact of coronavirus and continued its recovery.
The strong number provides a boost to Joe Biden, whose presidency has been battered by political setbacks in recent months as it struggles to enact his domestic agenda and suffered a major defeat in the race for governor of Virginia.
October's job growth outpaced the 450,000 new jobs economists had predicted from the job market, mitigating fears of slow growth in the jobs sector after far fewer jobs were added in September than was expected.
The boost in jobs was expected after Covid cases and hospitalization rates declined in October.
The rise has meant a continued decrease in the unemployment rate, which was 4.6% in October. The decrease in unemployment was mostly seen among white and Hispanic workers, while the Black and Asian unemployment rate has remained unchanged. The Black unemployment rate stands at 7.9% – more than 3% higher than the white unemployment rate of 4.2%.

09:50
Pharmaceuticals giant Pfizer has also given good news – its experimental antiviral pill for Covid-19 cut rates of hospital admission and death by nearly 90%.
Shares in Pfizer have surged 10% in early trading, as it joins the race to bring the first easy-to-use medication against the coronavirus to the US market.

09:50
Wall Street hits record after jobs report
The New York Stock Exchange has opened at a new record high, as October's strong jobs report boost the markets.
The Dow Jones industrial average, the broader S&P 500 and the tech-focused Nasdaq all hit new highs in early trading
Dow: up 277 points or 0.77% at 36,401
S&P 500: up 33 points or 0.7% at 4,713
Nasdaq Composite: up 91 points or 0.6% at 16,031
The pick-up in job creation is boosting market confidence in the recovery.
Ben Laidler, global markets strategist at the multi-asset investment platform eToro, says:



The US jobs market bounced back sharply last month, setting up the economy for a strong rebound into the end of the year and validating the Fed's move to taper its bond buying programme this week.

The US economy saw 531,000 new jobs last month, above expectations and well up from the prior month's negative surprise of 194,000 jobs. Gains were broad-based, led by re-opening sectors like hospitality and leisure, and left the economy around 5m jobs short of pre-pandemic levels. The unemployment rate fell to 4.6%, whilst wage growth accelerated to a strong 4.9% growth.

A rebounding jobs market will boost the GDP and earnings growth outlook and validate the Fed's slow march to hiking interest rates. This is a positive combination for markets.
Updated


09:35
More evidence of the pick-up in the leisure and hospitality sector:
Updated


09:24
Today's US jobs report is a welcome surprise, says Seema Shah, chief strategist at Principal Global Investors.
It "gives credence" to the view that the weaker August and September numbers (revised up today) were due to the impact of Delta outbreaks, she says, adding



Leisure and hospitality employment have picked up too, signalling that more normal mobility has started to resume.

The one cloud on the horizon was the stubbornly depressed participation rate. At this point, with reduced benefits, a return to in-person schooling and the drop in Covid rates, we should be seeing a recovery in participation. It's a little mystifying – is it because the massive cushion of savings is still weighing on the incentive to return to work? Or is there a fundamental shift in the psychology of working, in which case the Fed may soon decide that central bank policy alone cannot encourage people back into the labour market.

The Great Resignation will be key to central bank policy going forward and what's more, until workers return, supply chain issues will only linger.
Updated


09:20
Over 18m jobs created since April 2020 shock
This chart from Heather Long of the Washington Post shows the jobs recovery since April 2020:
Updated


09:07
But… labor force participation unchanged
There is one disappointment in an otherwise strong report: the labor force participation rate didn't rise last month.
That measure, which tracks the number of Americans employed or looking for a job – stuck at 61.6% in October.
Mohamed A El-Erian, chief economic adviser at Allianz SE, calls it a 'notable' disappointment.
Liz Young, head of investment strategy at finance company SoFi, tweets that the report is generally a 'major improvement'.
Updated


09:00
So far this year, monthly job growth has averaged 582,000 as America's economy has recovered from the economic shock of Covid-19.
Non-farm employment has increased by 18.2m since April 2020, when the economic shutdown saw more than 20 million workers cut from payrolls in a single month.
That's very encouraging progress. But it still leaves total employment down by 4.2m, or 2.8%, from its pre-pandemic level in February 2020.
Updated


08:55
Leisure and hospitality lead job gains
There were "notable job gains in leisure and hospitality, in professional and business services, in manufacturing, and in transportation and warehousing", says the report.
Employment in leisure and hospitality increased by 164,000, as bars and restaurants continued to hire staff. But, this sector is still missing 1.4m jobs since February 2020.
Professional and business services added 100,000 jobs in October, including a gain of 41,000 in temporary help services
Employment in manufacturing increased by 60,000 in October, led by a gain in motor vehicles and parts (+28,000) – a sector where semiconductor shortages have been hampering firms.
Employment in transportation and warehousing increased by 54,000 in October and is 149,000 above its February 2020 level – reflecting the shift in the economy since the pandemic.
But employment in public education declined over the month, down 43,000 in local government education and by 22,000 in state government education.
Updated


08:46
Average hourly earnings in the US rose by 0.4% in October, meaning they have risen by 4.9% over the last year.
October's jobs report explains:



In October, average hourly earnings for all employees on private non-farm payrolls increased by 11 cents to $30.96, following large increases in the prior six months.

Over the past 12 months, average hourly earnings have increased by 4.9%. In October, average hourly earnings of private-sector production and nonsupervisory employees rose by 10 cents to $26.26.
Updated


08:39
US economy creates 531,000 jobs in October; jobless rate falls
Just in: America's economy created 531,000 jobs in October, more than expected, as hiring picks up.
That's better than the 450,000 jobs that economists forecast, in a welcome sign that the labor market is continuing to recover as Covid-19 cases fall.
The US unemployment rate also fallen, to 4.6% from September's 4.8%.
And in further good news, more jobs were created over the summer than previously thought.
In what looks like a solid jobs report, September's non-farm payroll has been revised higher to show 312,00 new gains, up from the 194,000 first reported.
And August's jobs report has also been revised, to 483,000 from 366,000 jobs previously.
More details and reaction to follow…
Updated


08:15
Over in the eurozone, retail sales have fallen unexpectedly in a sign that consumer spending could be cooling.
Retail sales volumes fell 0.3% in September, statistics body Eurostat reports, weaker than the 0.3% rise which economists expected.
Sales of 'Non-food products' fell by 1.5% while food, drinks and tobacco rose 0.7% and automotive fuels picked up by 1.1% as people returned to offices and schools as lockdowns lifted this year.
Eurozone households are also facing a cost of living squeeze; inflation rose to 3.4% in September, eating into incomes (and then hit 4.1% in October).
Updated


07:50
Suez Canal to raise tolls by 6% amid supply chain crunch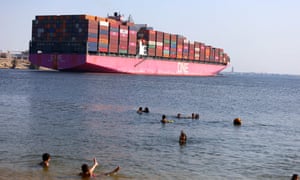 The Suez Canal is lifting its transit tolls by 6%, after a year of record revenue as demand for the critical waterway has surged as lockdown lifted.
The Suez Canal Authority announced the move yesterday. It will begin next February, adding to the costs within already-stretched global supply chains. Cruise ships and LNG ships will be excluded from the increase.
The Authority cited 'global economic conditions', and forecasts that trade and global growth are expected to keep recovering. That will mean more demand for the shortest maritime route to Asia from Europe.
It said:



The International Monetary Fund (IMF) and the World Trade Organization (WTO) are also expecting continued growth in world trade traffic and rise in the demand for maritime transport at rates of 6.7% and 4.7% respectively, in 2022, thereby predicting continued high levels of the freights and good profits for shipping companies.
Bloomberg adds:



The Suez Canal, which made headlines this spring when the Ever Given container ship got stuck in the waterway, posted record revenue of $5.8 billion for the year ended June thanks to strong demand for goods from consumers hunkered down at home during the pandemic.

https://www.theguardian.com/business/live/2021/nov/05/uk-households-squeeze-inflation-bank-of-england-andrew-bailey-us-jobs-report-business-live